Common Misconceptions About Estate Planning
March 22, 2022
Most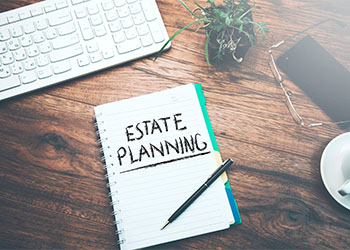 people don't like the concept of planning for the end of their life. Additionally, many people don't understand what an estate plan entails or how to go about making one. Therefore, this usually leads to misconceptions and false assumptions surrounding estate planning. Therefore, it can be easy for people to make simple yet costly mistakes when drafting an estate plan when they do it without professional guidance or experienced legal representation.
Our team at Richard L. Vanderslice, P.C., has the insight and knowledge necessary to guide clients through the complex landscape of estate planning. We will discuss your situation and explore your available options. From our Philadelphia, Pennsylvania office, we proudly serve clients throughout Philadelphia, Montgomery, and Delaware counties.
Misconceptions About Estate Planning
Many people have misunderstood beliefs regarding estate planning. This can lead to negative consequences down the road. Below are listed some of the more common myths about estate planning that need to be dispelled.
Estate Planning Isn't Necessary Until You Retire
The whole idea of estate planning is to have a plan in place in the event of something unexpected happening. All too often, the unexpected occurs when people wait until retirement to plan for what comes next. Indeed, your goals and concerns will likely change as you age and accumulate more assets, but every adult must have some semblance of an estate plan in place to deal with unexpected events. If you were to wait until retirement, it would be too little, too late.
I Don't Have Enough Assets to Necessitate an Estate Plan
While estate planning is largely about determining just how your financial assets will be distributed, that doesn't mean that you need to accumulate a certain amount of wealth to have a plan in place. Even if a person is young with few possessions, no children, no spouse, and in excellent health, they still have no way of knowing what the future will bring. Having an estate plan in place ensures you will have answers to your questions.
If I Don't Have a Will, My Family Decides Who Gets What
Another potentially dangerous misconception. When an individual passes intestate or without having a will in place, their assets will be distributed according to the intestate succession laws in their state. These laws outline the order in which beneficiaries inherit things from a deceased individual's estate. In Pennsylvania, children receive an intestate share of your property. The assets a child receives depend on how many children you have, whether or not you are married, and whether your spouse is also your children's parent.
If I Have a Will, My Estate Won't Have to go Through Probate
Some people assume that if they have a will, they don't have to go through probate, and assets would go directly to the people mentioned in the will. While this sounds nice in theory, it is not the case. A will has no impact on whether the estate must go through probate. If the assets must be probated, they will need to go through the process regardless of whether the person had a will. However, having a will can make the process easier.
A Will is the Only Thing That I Need in My Estate Plan
This is another misconception that arises out of misinformation. The fact is, a will does not cover everything you will need in an estate plan. You will also need documentation such as a power of attorney, advanced healthcare directive, or a living trust to ensure all your bases are covered.
If I Created an Estate Plan Years Ago, There's Nothing Left to Do
This is another dangerous misconception that could leave you unprepared. Significant life changes, such as additions to the family through childbirth or adoption, deaths, marriages or divorces, and other events, are important enough that you need to update your estate plan. As a general recommendation, everyone should review and update their estate plans every three to five years to make sure the plan reflects their current wishes.
Get the Legal Guidance You Need
No matter what your estate plan involves, our team at Richard L. Vanderslice, P.C. can keep you on the right path. We have the skilled guidance and experience with wills, trusts, and advance directives you need to make crucial decisions for your best interests. If you are in Philadelphia County, Montgomery County, or Delaware County, Pennsylvania, contact our office today to get started.